Porcelain Veneers or Invisalign?
If you want to achieve the perfect smile, there are a lot of options available to you. Two of these options are porcelain veneers and Invisalign. Both options are excellent ways to achieve a straighter, more beautiful smile, but you may find that one is better for you than the other. To learn which option is best for you, continue reading this blog post.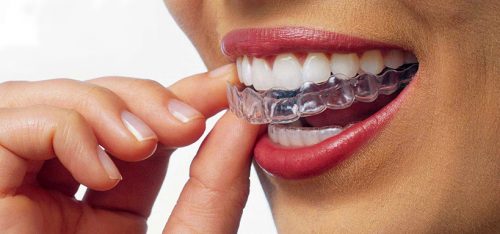 Porcelain veneers are sheets made from porcelain that is permanently adhered to your teeth. Porcelain veneers can correct cracks, chips, breaks, asymmetry, crookedness, and discoloration. Porcelain veneers have an advantage over Invisalign because the treatment process is quick, veneers offer color and shape correction, they disguise cracks, they are versatile and the treatment is painless.
On the other hand, Invisalign is a one-time solution. Porcelain veneers need to be replaced every five to 10 years, but Invisalign is a one-time treatment. Invisalign is also healthier on your enamel, corrects your bite, rotates your teeth and eliminates any crookedness or gaps, instead of just disguising them. Invisalign is a custom-made alignment tray that fits over your teeth. This tray slowly shifts your teeth into place over time, straightening teeth and appearing more cosmetically attractive than traditional braces. If you are concerned about your dental health, your bite, or the straightness of your teeth, Invisalign may be the best choice for you.
Now that you have more information about both porcelain veneers and Invisalign, you can make a decision as to which is better for you. For additional assistance in achieving the perfect smile, consider reaching out to us at the offices of Dr. Joseph C. Lattinelli. Our dental office can provide you with dental veneers or Invisalign, so contact us at 212-752-7188 for further information. We look forward to hearing from you soon and helping you achieve your dream smile!
Manhattan Cosmetic Dentistry | Upper East Side Veneers
Recent Posts
Contact Us
JCL Dental
121 East 60th St., 10th Floor
New York, NY 10022
Monday | 7am - 5pm
Tuesday | 7am - 5pm
Wednesday | 7am - 5pm
Thursday | 7am - 5pm
Friday | 7am - 5pm
Sunday |
Saturday |