Our Dental Office Services
Lenox Hill Dental Services | Upper West Side Cosmetic Dentist
At the office of Joseph C. Lattinelli, DMD and associates, we want to be your choice for quality dentistry services in Manhattan, New York. Our accredited and highly-skilled team of professionals will work with you to determine the best treatment options for your unique needs. We offer a full range of dental services, ranging from preventive and diagnostic to cosmetic. Take a closer look at the dental services we offer.
Preventive and Diagnostic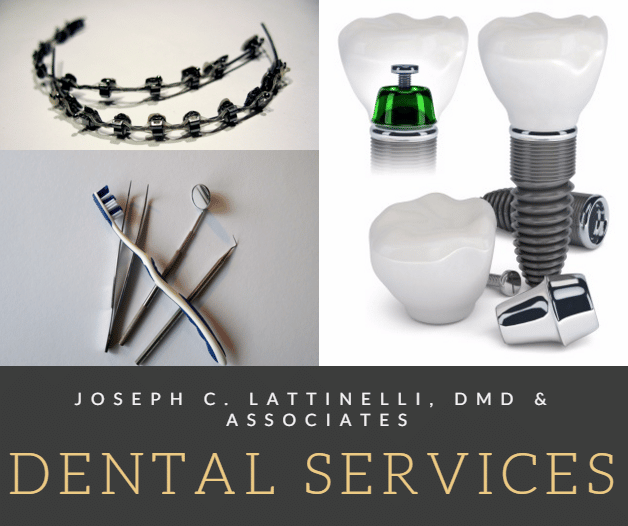 Comprehensive Evaluation/Oral Examination - Oral examinations involve visual inspection of the mouth, head, and neck. With the addition of radiographs, the doctor is able to detect cavities, dental restoration problems, gum and bone recession and other abnormalities.
Cleaning - A dental cleaning is also known as an oral prophylaxis. Specialized instruments are used to effectively remove deposits, loosen tarter, and smooth and polish tooth surfaces.
Custom Mouth Guards - Mouth guards are commonly used appliances which protect athletes while practicing and playing contact sports. Custom mouth guards which provide the highest level of protection and comfort are created by taking an impression of the teeth.
Restorative
Crown - A permanent dental restoration completely covering the outside of a decayed tooth, a crown can be completed in just two visits.
Bridge - A bridge acts as a replacement for missing teeth, eliminating the need for a denture or implant. To create a bridge, a false tooth is used and supported on either side by crowns atop of neighboring teeth.
Veneers - Veneers are very thin pieces of porcelain attached with adhesive which recreate the beautiful, natural look of healthy teeth.
Implant Restorations
Dental Implants - Dental implants are anchored into the jawbone in a fusing process known as osseointegration. Dental implants replace tooth roots and act as a foundation for replacement teeth.
Dentures - A denture acts as a removable replacement for teeth which are missing. There are two types of dentures: complete dentures replace all teeth in the mouth while partial dentures replace only a few missing teeth.
Cosmetic
Whitening - Whitening is a teeth brightening process which is also referred to as bleaching. In-office bleaching uses a carbamide peroxide agent in addition to a laser, and usually requires just one office visit. At-home bleaching uses a customized mouth guard to apply a carbide peroxide agent, which is applied over a period of time lasting four weeks or longer.
Invisalign - Invisalign is a highly advanced and modern alternative to wire braces. Invisalign straightens teeth using a comfortable and virtually invisible plastic material.
Specialized Techniques
CAD/CAM Restorations - CAD/CAM is short for computer-aided design/computer-aided manufacturing. CAD/CAM is utilized to create precise and accurate dental restorations.
Laser Dentistry - Lasers deliver energy in light form. Laser treatments reduce pain, noise, complications, and number of necessary dental appointments.
Biomimetic Dentistry - Biomimetic dentistry allows for as much of the natural tooth as possible to be preserved, removing only damaged and decayed areas before bonding the final restoration.
Additional Services
Scaling and Root Planing - Used to treat gum disease, scaling and root planning removes plaque from beneath the gums and then smooths the tooth's root. This non-surgical treatment enables diseased gums to heal.
Root Canal Treatment - Root canal therapy involves removing infected pulp from the tooth, cleaning and sealing the tooth chamber, and restoring the tooth with a crown or filling.
Extractions - Following administration of local anesthesia, an extraction involves the use of forceps to gently remove a tooth which cannot be saved.
TMJ Disorders - Temporomandibular joint (TMJ) disorders cause pain in the joint and muscles of the jaw. TMJ disorders can be treated in a variety of ways after the cause is identified.
Obstructive Sleep Apnea Treatment/Appliance - Oral Appliance Therapy (OAT) is an effective solution for patients with obstruction sleep apnea, and utilizes a customized oral appliance to correctly position the jaw and tongue during sleep.
Would you like to know more about the dental services offered by Dr. Lattinelli and his associates? We would love to discuss a personalized dental treatment plan with you. Give our dental office a call today to schedule your dental consultation!
Recent Posts
Contact Us
JCL Dental
121 East 60th St., 10th Floor
New York, NY 10022
Monday | 7am - 5pm
Tuesday | 7am - 5pm
Wednesday | 7am - 5pm
Thursday | 7am - 5pm
Friday | 7am - 5pm
Sunday |
Saturday |