Clear Aligners and Teeth Straightening
Manhattan Clear Aligners | Upper East Side Dentist
They say that one of the first things people notice about you is your smile. For those who are embarrassed or self-conscious about how crooked teeth affect their looks, Upper West Side Invisalign is a contemporary solution for straightening your smile. By utilizing a custom-made series of aligners individually created for every patient, the process will progressively and gently shift your teeth into their correct position.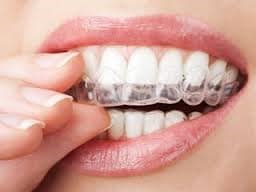 The aligner trays are fashioned from smooth and comfortable plastic; and go virtually unnoticed to the casual passerby. The process is easy – simply put in a new aligner tray every two weeks, and let it do its work! Your result will be a beautiful smile – and great first impression – while you suffer very little inconvenience or change to your lifestyle. No one will know you are straightening your teeth, but they will admire the outcome.
The Invisalign procedure is great for teens or adults. Whether you are a Midtown West executive or Murray Hill mom, you can feel confident in your decision by consulting with Dr. Lattinelli about the various available options. The most obvious choices are Invisalign and traditional braces. However, more and more people are determining that the level of comfort and convenience that Invisalign affords make it the clear choice – literally! The smooth plastic aligners are nearly invisible, remove easily for cleaning, and allow you to eat whatever you want. Traditional braces require brackets and wires which can poke, tear and irritate the lining of your mouth, are tough to keep clean and restrict many foods you can eat.
The Invisalign solution costs about the same as traditional straightening methods, and can generally be paid for through insurance or flexible spending plans. Come into Dr. Lattinelli's Upper East Side dentist office for a consultation and to learn more about your options to obtain a beautiful smile. That stunning first impression is closer than you think and easier than you imagine. We look forward to meeting you and to putting you on the road to straighter teeth you always wanted. Manhattan is waiting for your smile!
Recent Posts
Contact Us
JCL Dental
121 East 60th St., 10th Floor
New York, NY 10022
Monday | 7am - 5pm
Tuesday | 7am - 5pm
Wednesday | 7am - 5pm
Thursday | 7am - 5pm
Friday | 7am - 5pm
Sunday |
Saturday |