How Do Dental Implants Work?
Upper East Side Dental Implants | Manhattan Cosmetic Dentistry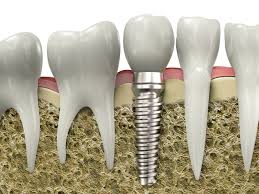 Your smile is often your first impression. Your smile represents you to everyone you meet. If your smile has been affected by periodontal disease, an accident or injury or some other circumstance, dental implants may be a possible option to remedy the situation. A dental implant is an artificial tooth root that is situated into your jaw to secure a replacement tooth or bridge. Dental implants are intimately connected with the gum tissues and underlying bone in the mouth. Best results are achieved with healthy gums free from of periodontal disease, the ideal candidate for dental implant surgery is in overall good health, with sufficient bone present in your jaw to anchor the implant. If you have dreamed of fixing your smile, this may be your opportunity.
The most common type of Upper East Side dental implant is called Endosteal, or "in the bone", and can hold one of more prosthetic teeth. This method is generally an alternative for those who have bridges or removable dentures. Subperiosteal, or "on the bone" implants secure the teeth to a metal framework placed on top of the jaw. This process is usually utilized for those with minimal current bone height, or cannot wear conventional dentures. Both methods can replace a single tooth with an implant, several teeth with implant-supported bridge, or all of your teeth with a full bridge or full denture. In some cases, sinus augmentation will be performed to assist in developing the bone for proper placement. Ridge modification may be the best solution for a deformity in the upper and lower jaw, correcting the bone defect prior to the implant for the best aesthetic and longevity results.
As with natural teeth, your implants will require dedication to proper oral care and regular dental visits. In order to keep your implant clean, healthy and plaque-free, brushing and flossing is still a necessity! After treatment, your dental professional will work closely with you to develop the best care plan for you. Periodic follow-up visits will be scheduled to monitor your implant, teeth and gums to make sure they are healthy. While there are dental professionals from Tribeca to Midtown West, Dr. Lattinelli is exceptionally qualified to help you on your way to a smile that will dazzle. Call today to schedule a consultation and take the first step to a new first impression.
Recent Posts
Contact Us
JCL Dental
121 East 60th St., 10th Floor
New York, NY 10022
Monday | 7am - 5pm
Tuesday | 7am - 5pm
Wednesday | 7am - 5pm
Thursday | 7am - 5pm
Friday | 7am - 5pm
Sunday |
Saturday |