No Metal, No Problem!
Due to a wide range of reasons such as medical conditions, accidents or genetics, our teeth might turn crooked thereby affecting our smile, the way we chew on food and even impact our self-esteem which is quite priceless. However, most people think that braces are the only solution to such teeth. The good news is that you no longer have to get metal on your teeth to keep them in line and regain your incredible smile.
Most issues can be corrected with Invisalign but it's always to consult with us before you begin. Depending on the results of your scans and tests, we can give you between 10 to 40 clear aligners so that you can switch them up about every week to gain maximum efficiency. With time, they will straighten your teeth with much fewer appointments to see us than the traditional braces.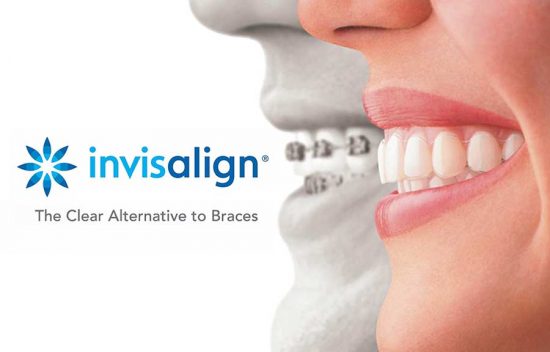 Benefits of Invisalign over Traditional Braces
Better Aesthetics
Since these trays are transparent and nearly invisible to the naked eye, you can carry on your day without worrying that people will see wires or brackets in your mouth. Meaning you don't have to feel self-conscious as you speak to people.
Easier Maintenance
Since these aren't as permanent as braces are, you are free to eat what your heart desires without worrying about dirtying them. You can take them out, eat, brush and place them back in their place.
Blends Well with Patient's Lifestyles
If for one reason or the other you cannot make it for an appointment as recommended by us, you can always keep multiple trays at home. If you are constantly on the move because of work or are in college, you can carry them with you and switch them up as recommended. If you don't have additional ones, you can just wear the last ones without worrying about negative repercussions until you can go in for another appointment.
As such, if you need to get some Invisalign, please do it at a professional's such as ourselves at Joseph C. Lattinelli, DMD. Not only can we take care of all your dental needs, but also we treat you with the utmost respect and care. We are located at 121 E 60th Street in New York. You can also contact us at 212-752-7188 to book an appointment today!
Recent Posts
Contact Us
JCL Dental
121 East 60th St., 10th Floor
New York, NY 10022
Monday | 7am - 5pm
Tuesday | 7am - 5pm
Wednesday | 7am - 5pm
Thursday | 7am - 5pm
Friday | 7am - 5pm
Sunday |
Saturday |