Dr. Lattinelli Awarded 2018 Invisalign Preferred Provider
We are excited to announce Dr. Lattinelli has been recognized as a 2018 Preferred Provider by Invisalign®. This recognizes Dr. Lattinelli as an Invisalign® provider with the experience to give his patients the proper care and attention for a successful dental alignment.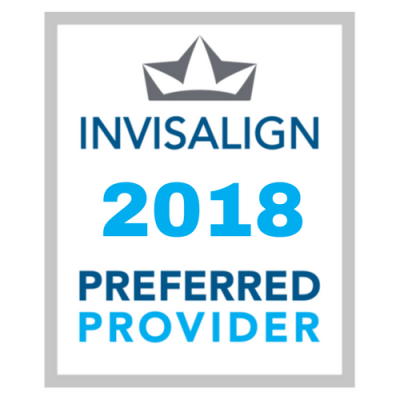 Orthodontic braces are still an effective way to adjust the smile of children. But adults can find braces embarrassing to use and even painful, because their teeth are set strongly in the jawbones and realignment takes time and small adjustments. This is exactly how the Invisalign® process works, using a series of nearly invisible aligners to make slow and small adjustments in the teeth.
Invisalign® is used over a period of several months to perhaps a couple years depending on the amount of alignment needed. There are no visible braces, wires, or rubber bands. Users are not restricted in what foods they can enjoy. Dental care is easy because the aligners can be removed for short periods, allowing the patient to brush and floss their teeth normally.
The Invisalign® process involves several steps with Dr. Lattinelli:
An initial consult to review the process including timing and cost information
An evaluation of your current dental profile to determine if Invisalign® is a viable choice
An image of your current teeth using imprints or imaging
Getting the aligners produced
A visit to set the first aligner and go over the process
Periodic visits to check progress
Dr. Lattinelli is ready to provide you with the best possible outcome using the effective Invisalign® process and has the experience to do that as an Invisalign® Preferred Provider. Contact Dr. Lattinelli's office today at 212-752-7188 for more information.
Manhattan Dental Office | Upper East Side Invisalign
Recent Posts
Contact Us
JCL Dental
121 East 60th St., 10th Floor
New York, NY 10022
Monday | 7am - 5pm
Tuesday | 7am - 5pm
Wednesday | 7am - 5pm
Thursday | 7am - 5pm
Friday | 7am - 5pm
Sunday |
Saturday |