Dental Implants – Questions & Answers
Are you in need of dental implants? If so, you probably have some questions. We want to help answer all of your questions so you are as prepared for your procedure as possible. Here are some of the most popular questions and answers related to dental implants.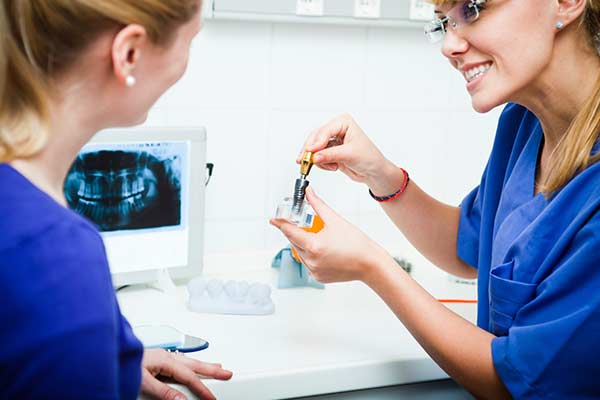 What takes place during the procedure?
When a dentist places an implant in the upper or lower part of your jaw, they will likely take CT scans, or three-dimensional images of the jaw, before the procedure. Your dentist will do this to find the existing bone and its depth. After the dentist makes sure they have the appropriate location decided from the scan, your dentist will place the implant in your jaw using modern technology.
How long does it take to heal?
We all like to know ahead of time how long we will need to eat liquid or soft foods, or maybe even call off of work. The healing time for a dental implant usually takes around three weeks to completely heal. It is recommended that you follow your dentist's specific instructions regarding diet and work.
What is the success rate of a dental implant procedure?
The success rate of this procedure is notably high. In the past 10 years, titanium dental implants have had a 95 percent success rate for bone fusing.
What are the benefits of dental implants?
There are numerous benefits of dental implants. Dental implants are the next best thing to natural teeth. They are strong, stable, and realistic looking. With dental implants, you can talk, eat, and move your mouth just like you would with your regular teeth. Dental implants are safe, effective, and one of the most popular ways to help patients achieve their dream smile.
Now that we've answered some pressing questions related to dental implants, you may be interested in checking us out at the offices of Dr. Lattinelli, DMD, and Associates. We can meet with you for a consultation regarding your potential dental implant procedure to answer any additional questions you may have. We would love to work with you to help your smile shine bright, so consider reaching out to us at 212-752-7188 today.
Upper East Side Dental Implants | Manhattan Cosmetic Dentist
Recent Posts
Contact Us
JCL Dental
121 East 60th St., 10th Floor
New York, NY 10022
Monday | 7am - 5pm
Tuesday | 7am - 5pm
Wednesday | 7am - 5pm
Thursday | 7am - 5pm
Friday | 7am - 5pm
Sunday |
Saturday |