Dental Implants Planning & Options
Midtown NY Dental Implants | Upper East Side Dentist
With our CBCT scans and restorative virtual treatment planning along with our extensive training we provide Dental Implant Services for our patients.
Dental Implants are the replacement of your tooth's roots. When the roots are gone you need to have a foundation strong enough for the fixed or removable tooth replacement, the implant. Small anchors made of a biocompatible metal, called titanium, are placed in your jawbone. These anchors fuse, (a process known as osseointegration) with the bone over a period of a few months. At which point, abutment posts get inserted into the anchors for a permanent attachment of the replacement teeth.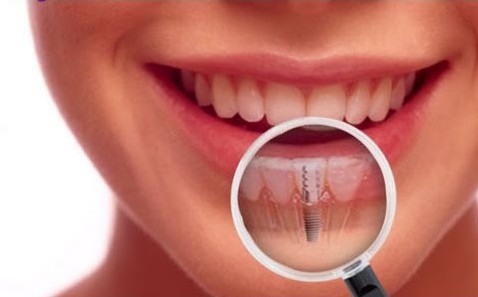 We begin with a virtual 3-D model or physical model for the implant placement. This along with the restorative work is simulated to create your ideal treatment plan. The virtual aspect allows our team to take multiple aspects of your implant placement and restoration into account for optimal aesthetics, function and longevity of your final restoration. Our 3-D model also allows you to see and better understand the procedure.
After planning we use our specialized software to create your surgical guide to use during the implant procedure. This guide gives the doctor an exact location, angle, and depth of the implant placement for increased accuracy, efficiency, safety and procedure predictability.
You have a few options depending on the need. An implant-supported bridge is a restorative procedure used when three or more adjacent teeth are missing. The bridge replaces these teeth without the use of dentures. Typically, we use two implants to support the porcelain bridge to provide optimal functioning and aesthetic replacement for your natural teeth.
Another option, Implant supported dentures, can be fixed or removable and requires the placement of two or more implants. Removable dentures snap on to the implant, do not require denture paste or adhesive, and can be taken out at night for cleaning. They simulate your natural teeth and stay in place with the implants anchoring them eliminating the movement or gum discomfort that traditional dentures may produce. Aesthetically, dental implant placement can help alleviate the sunken look that often occurs due to bone loss in the jaw by stimulating bone growth in the area surrounding the implant. This process is called osseointegration and can aid in prevention of future bone loss.
A full arch with only four implants is unique and allows patients missing all upper or lower teeth to replace a full arch using only 4 implants as anchors. The benefits outweigh traditional dentures. These are easier to care for, simulate natural look and feel, and stay fixed in place. Again, you won't experience the movement and gum irritation that traditional implants can cause. You leave the same day, reducing costs and healing time. Speaking and eating will also be more natural because you have no plate covering the roof of your mouth.
Schedule your consult with our extensively trained and knowledgeable dental office team to receive accurate, more natural looking and feeling Dental Implants.
Recent Posts
Contact Us
JCL Dental
121 East 60th St., 10th Floor
New York, NY 10022
Monday | 7am - 5pm
Tuesday | 7am - 5pm
Wednesday | 7am - 5pm
Thursday | 7am - 5pm
Friday | 7am - 5pm
Sunday |
Saturday |