Dental Implants and Recovery
One of the many dental services performed by Dr. Lattinelli and his team is dental implants. There is any number of reasons why implants may be needed, including loss of a tooth or teeth due to injury or tooth decay that is severe enough to prevent saving the tooth. If you need a dental implant in the Upper East Side area, what's involved and what is the recovery time?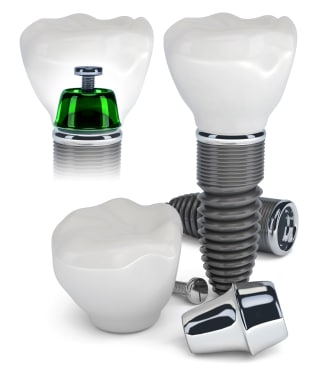 A dental implant involves a number of steps, depending on whether there is an existing tooth:
First any existing teeth are removed.
Titanium posts are inserted directly into the jawbone wherever an implant will be placed.
Once the posts are securely in place, a crown or denture is placed and secured to the post, resulting in a look like your natural teeth.
Implants can be performed using local or general anesthesia depending on the patient and the number of implants. If your existing jaw isn't strong enough to support the implant a bone graft may be needed. We will discuss this with you before any implant procedure.
The important recovery time is after the titanium post is inserted. Your body needs time for the jaw to create new bone and firmly support and secure the implant. Every person is different, but it can take several weeks to months for this to happen. While you are waiting for the implant post to set, we insert a temporary crown rather than leaving the space open.
There are some things you will need to do while waiting for the implant post to become fully secured:
Keep the area around the implant site clean and dry for the first few days after surgery. Some bleeding and swelling is common.
Brush your teeth gently and avoid eating any hard or crunchy foods or foods which can be stuck between teeth such as popcorn, rice, or nuts. Don't chew ice!
Avoid strenuous exercise for a few days after surgery to prevent more bleeding or swelling.
We will schedule follow-up appointments to check on the progress of your implant post healing, and eventually an appointment to install the permanent crown.
If you have any questions about dental implants or the recovery process, contact us here at Dr. Lattinelli's office by calling 212-752-7188, and we will be happy to discuss them with you.
Upper East Side Dental Implants | Manhattan Dentist
Recent Posts
Contact Us
JCL Dental
121 East 60th St., 10th Floor
New York, NY 10022
Monday | 7am - 5pm
Tuesday | 7am - 5pm
Wednesday | 7am - 5pm
Thursday | 7am - 5pm
Friday | 7am - 5pm
Sunday |
Saturday |