Consider Invisalign!
Manhattan Invisalign | Upper East Side Cosmetic Dentist
-
Your smile is one of your most important features! It's what people see first, and here at the office of Joseph C. Lattinelli, DMD we want you to feel confident and show off your pearly whites with pride. If you've been considering correcting any imperfections but don't want to take on bulky, noticeable metal braces, we have a great solution.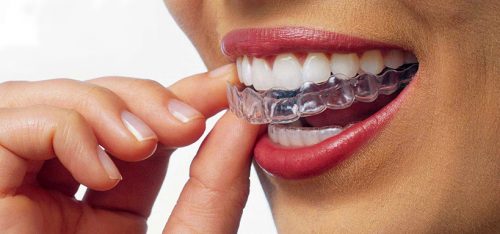 Invisalign, also known as invisible braces, are ideal for anyone wanting straighter teeth through a more subtle process. The clear plastic trays are customized specifically for your mouth, and gradually adjust your teeth over time. Every two weeks, you'll get new trays and will continue the process until your teeth are absolutely perfect.
If you're considering this method, there are a few things to keep in mind. First and foremost, you need to wear the trays. They can be conveniently removed during meals but should be worn for about 22 hours a day to work effectively. After each meal and snack you'll need to brush your teeth well before putting your trays back on, but never use toothpaste on them! It can cause a buildup of bacteria causing a bad smell and taste. Instead, you'll want to wash them with antibacterial soap and rinse thoroughly with water. You should also avoid any teeth-staining drinks like coffee, tea, red wine, and dark colored sodas. Not only will they darken your teeth, but they can stain your liners as well.
Keep in mind that not everyone is eligible for Invisalign, but for those that are, it's essentially a pain and stress-free process! The best part about them is that most people you encounter won't even know you're wearing them. Interested in beginning your journey towards the gorgeous smile you deserve? Feel free to request an appointment on our website through our convenient scheduler or give us a call today!
Recent Posts
Contact Us
JCL Dental
121 East 60th St., 10th Floor
New York, NY 10022
Monday | 7am - 5pm
Tuesday | 7am - 5pm
Wednesday | 7am - 5pm
Thursday | 7am - 5pm
Friday | 7am - 5pm
Sunday |
Saturday |