Bridgework or Dental Implants?
Midtown West Dental Implants & Bridgework
Millions of people around the world today live with missing teeth. In fact, the statistics in the United States are staggering: 69 percent of Americans age 35 to 44 have at least one missing tooth, and one in four over the age of 74 have lost all of their natural teeth. Perhaps you're needing to replace missing teeth but are not quite sure how to approach the process. We've got some helpful information regarding the two best alternatives to missing teeth: traditional bridgework and dental implants. While both are reliable, functional, and aesthetically pleasing options, it's important to understand the differences between the two. Take a closer look at bridgework and dental implants.
Bridges
What is a dental bridge?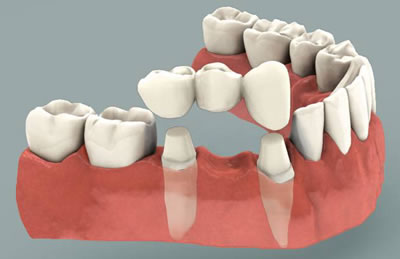 A dental bridge is literally that – a bridge which closes the gap resulting from missing teeth. A bridge is an appliance made up of two or more crowns which is attached on either side to natural teeth. A bridge incorporates either a metal or porcelain frame that attaches to existing teeth. These adjacent teeth must be prepared through a process that involves the removal of enamel. According to dental professionals, this preparation process can increase the risk for tooth decay.
What are the benefits of dental bridges?
Restore smile
Restore chewing and speaking abilities
Prevent other teeth from drifting
Maintain facial shape
Implants
What is a dental implant?
A dental implant is an appliance that acts as a replacement for the tooth root. A dental implant provides a strong foundation for either fixed or removable replacement teeth. With a dental implant, a titanium metal implant is fused directly into the jawbone through a minor surgical procedure. According to dental professionals, dental implants are less likely to lead to gum disease than dental bridges.
What are the benefits of dental implants?
Improved smile, appearance, and speech
Greater comfort when eating
Improved oral health
Durability and convenience
Considering a dental bridge or dental implant? The professionals at Dr. Joseph C. Lattinelli and Associates are here to provide the information you need to make informed dental decisions. Visit the dental office of Dr. Joseph C. Lattinelli and Associates or give us a call to start your journey towards a healthier smile!
Recent Posts
Contact Us
JCL Dental
121 East 60th St., 10th Floor
New York, NY 10022
Monday | 7am - 5pm
Tuesday | 7am - 5pm
Wednesday | 7am - 5pm
Thursday | 7am - 5pm
Friday | 7am - 5pm
Sunday |
Saturday |